2017 Road Safety and Simulation International Conference
After a very long review process, countless edits and reviewing the same information over and over again, I am excited to present my paper "Using Spatial Interpolation to Determine Impacts of Snowfall on Traffic Crashes" at the 2017 Road Safety and Simulation (RSS) International Conference at The Hague, Netherlands.
Given that the RSS conference is an international transportation conference, it is only fitting to give a brief preview of the different modes of transit required to travel 3,900 miles across the Atlantic.
Leave home at 4 p.m., drive to airport.
Arrive at the McNamara Terminal at Detroit Metropolitan Airport, avoiding traffic and delays due to all the great improvements they are making.
One-hour connection flight to Toronto.
Quick one-hour layover made easier by a well-designed queuing processing system at Toronto Pearson Airport.
Eight-hour flight to Schiphol Airport in Amsterdam.
Bypass the taxi and Uber line.
Hop Netherlands' super-efficient rail lines from the train station under the airport.
40+ mile rail commute to The Hague.
Tram ride the 3 miles to one of the eight districts of The Hague called Scheveningen.
Arrive at the Grand Hotel Amrath Kurhaus where the conference is held and set up camp and relax for the night, 16 hours later.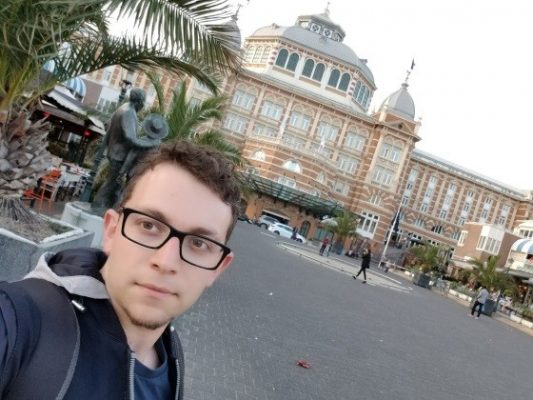 Day 1 at RSS
I arrive early at the conference to get acclimated with the settings. The conference setup is impressive and represents a mix of very unique and different transportation viewpoints from all corners of the world.
HRC's submission was one of 167 contributions from 36 countries and six continents.
Before sessions begin, I meet with co-authors Dr. Tim Gates (my advisor at MSU) and Stephen Stapleton (former colleague at MSU and currently an MSU Ph.D. candidate in Transportation Engineering). While our presentation times overlap it's good to have some familiar faces in a place like this.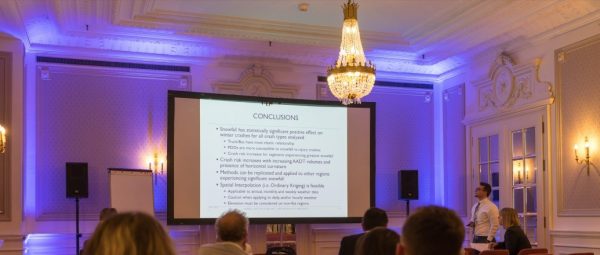 My presentation session is the last of the day and grouped with excellent topics, presentations and presenters on weather and traffic safety. Each author had a very unique perspective on how they view traffic safety. Our experiences, diverse geographic areas, and thoughts provided a refreshing take on this topic. My presentation went well.
Day 2 at RSS
Now that my presentation is over, I am ready to enjoy the conference a little more. Similar to day one, there are concurrent sessions on extremely varied topics. I enjoyed a number of presentations. One such presentation was by Mr. Pieter Litjens, Alderman for Traffic and Transportation of Amsterdam. He describes the transportation challenges and solutions in Dutch cities in a very simple but extremely effective manner – a recording made on his GoPro camera during his daily work commute as he bikes around the city. Some unique concepts are as follows: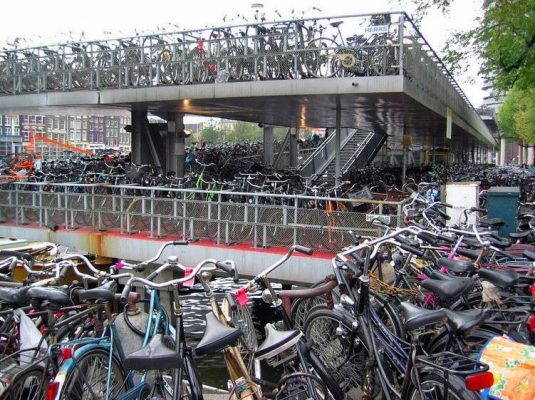 A bike parking structure right in front of the Amsterdam Central Station. As Mr. Litjens puts it "The typical Dutch bike is a traffic solution, but also creates problems. Where do you park 1.5 million of them?"
Day 3 at RSS
The last day of RSS was just as interesting as the first two. While the presentations were great all around, the highlight of the day was a roundtable on how the Dutch address safety policy. One effective tool for developing safety polices is to include all applicable stakeholders and ensure that their input is interactive, meaningful and impactful by making use of social media and new communication technologies (i.e. phone apps).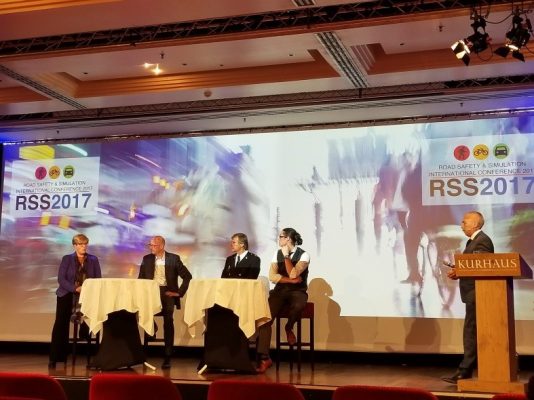 RSS is a biannual international conference that rotates between different cities around the world, making it a unique conference with perspectives on transportation engineering, that are not easily obtained elsewhere. I look forward to incorporating these new perspectives on the work I am doing at HRC.
---
Genti Heqimi, Graduate Engineer I
Hubbell, Roth & Clark, Inc.