Project Details
HRC was hired to prepare a master plan of Beverly Park in cooperation with the Beverly Hills Parks and Recreation Dept. HRC also consults on the Village's behalf at board meetings in which volunteers, residents and Village officials express opinions and concerns on various park improvement issues.
The initial phase of the Beverly Park master plan was to prioritize the construction of Village approved programs elements. Because the Village had CMI grant money to use for the implementation of phase one of the master plan, a Bio-Retention pond was incorporated in conjunction with parking lot restructuring. The Bio-Retention pond's function is to filter out pollutants from the restructured bituminous parking lot through plant absorption and soil filtration before runoff entered the River Rouge watershed.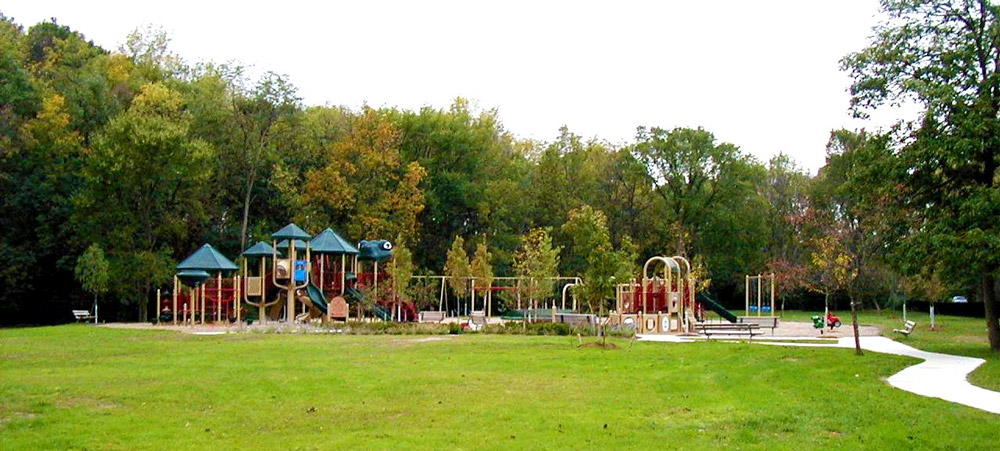 Additional program elements of phase one include approximately $150,000 of playground equipment and related elements. The play area requirements were to provide equipment for kids between the age of 2-5 and 5-12. Separation between the two age groups was a priority and realized by providing a concrete walking path between the two areas that concluded with a 30′ dia. circle with a circular bench for 360-degree parental viewing. Pedestrian and vehicular entrance/exit also were elements of phase one. Brick piers with iron archways were constructed at the main entrances/exits of the park and a 1,100 lft. aluminum ornamental fence was place along the northern end of the park that connected the pedestrian and vehicular piers and archways. Park landscaping within the bio-retention pond and parking lot, around the play area, and at the entrance/exits of the park completed phase one of the master plan.