Project Details
HRC was retained by the City of Utica to provide design engineering for streambank and recreation enhancements at Memorial and Heritage Parks, which are owned by the City. The location, exposure, access, and natural resources made these parks prime for improvement.
The HRC Team provided design, site plan development, permit administration, and reporting for the projects. Design included substantial toe protection to mid-bank and upland areas adjacent to the river using a combination of deep rooted vegetation, hard armoring, and bioengineering techniques.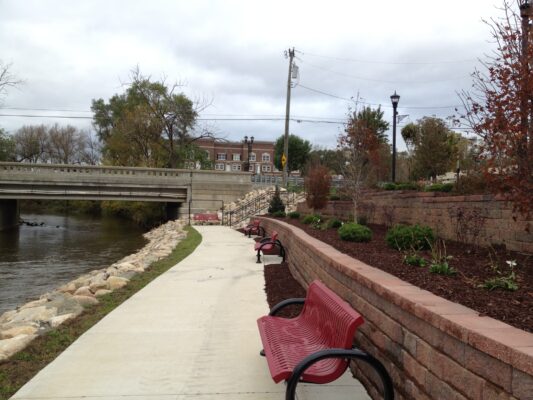 The focal point of the project was ADA-compliant pedestrian access to the shoreline of the Clinton River. Cutting a floodplain shelf back from the river and repairing existing erosion provided a pad to construct a concrete walkway. The shoreline is a combination of ledge rock and boulders for erosion protection and slope stability that were planted in areas for a more natural look. The walkway was connected back to the pathways surrounding the library and future pathway, creating a loop or circuit for passive exercise or employee use during breaks. Additional amenities included a clock tower, interpretive signage, seating, and landscape areas, thus establishing a sense of place and destination.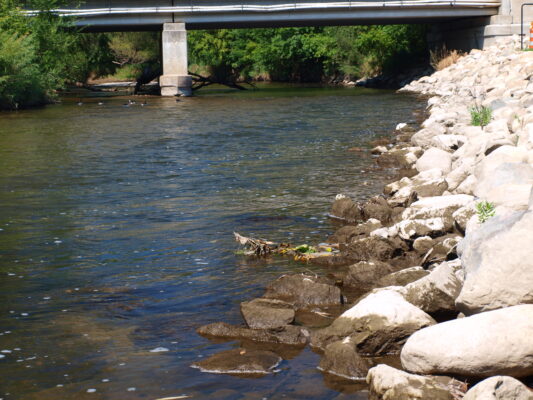 The projects provided:
≡ Reductions in river erosion and sedimentation
≡ Enhanced aquatic and terrestrial habitat
≡ Enhanced river access to the Clinton River
≡ Demonstration of the City's sustainable development and water quality enhancement initiatives