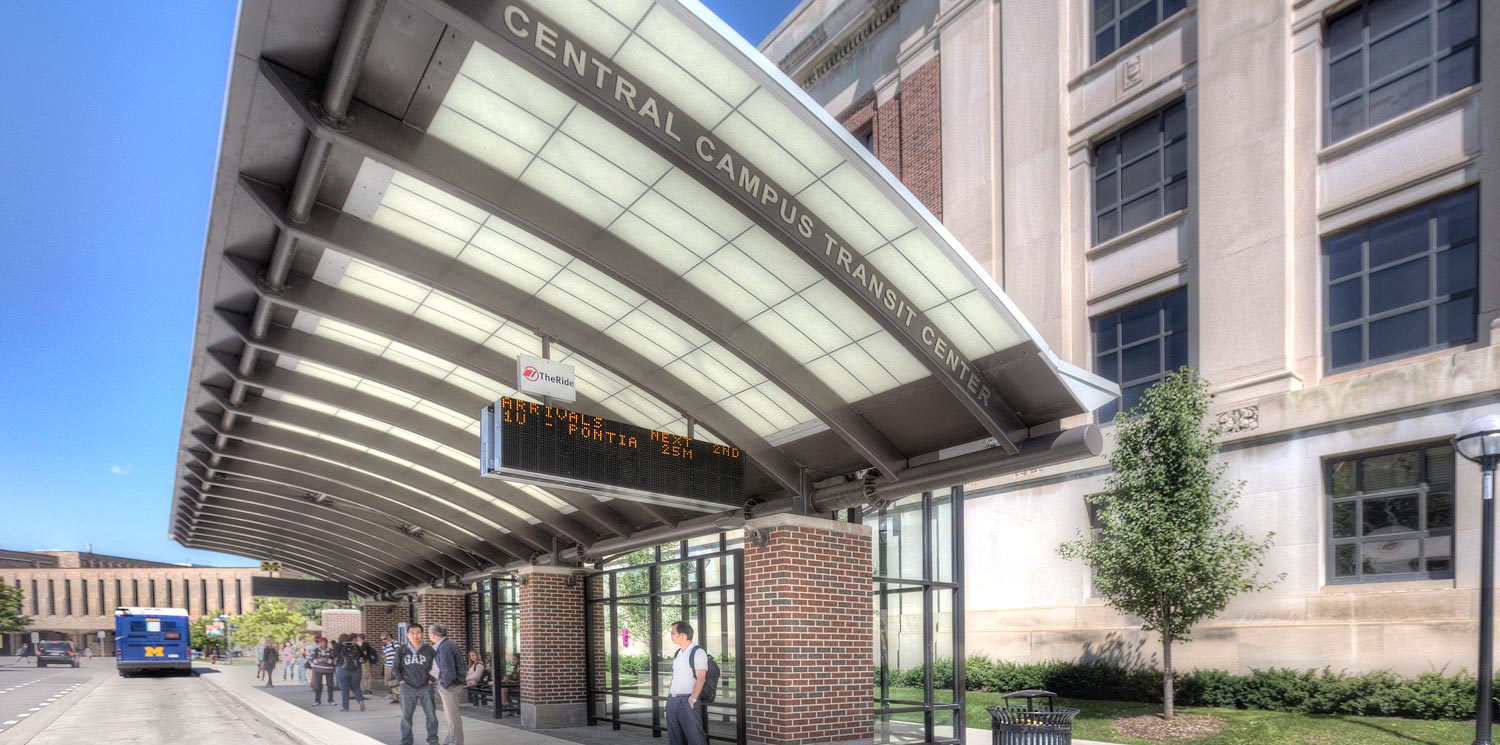 A consortium of stakeholders led by the University of Michigan (U of M) selected the team of Hubbell, Roth & Clark, Inc. (HRC) and Grissim Metz Andriese Associates to redesign a major on-street transit transfer center, pedestrian crossing, pedestrian plaza, and North University Avenue on the Central Campus of U of M. The stakeholders consisted of two U of M departments–Architecture, Engineering, and Construction and Parking and Transportation Service, the City of Ann Arbor, and the Ann Arbor Transit Authority. The stakeholders were awarded federal funding to reconstruct North University Avenue and the Central Campus Transit Center. Bus activity occurs on both sides of North University and is used by the University transit service, the public transit authority, and school buses dropping off students for field trips to the Ruthven Museum.
HRC provided project management, road, structural, architectural, power and lighting design and transportation engineering services for a Complete Streets solution.
Project Management/Road Design tasks included:
Disciplined Management Process utilized to gain stakeholder design consensus
Management of design team including items relevant to federal funding
Construction scheduling and CPM
Architectural design for shelters
Structural design for shelters
Electrical design for shelters including information kiosks and real time signage
Canopy, plaza and walkway lighting design
Transportation engineering services involved analyses that are unique to transit operations and were needed to justify the size of the transit shelter and sidewalks around the shelters.
The analyses included:
Field observation of transfer activities and need for additional curb space and protection from adverse weather
Forecast future ADT and peak hour volumes on North University Avenue
Five year crash analysis using the police reports to locate any pedestrian and/or bicycle related crashes
Recommended bus stop bay geometrics using Transit Cooperative Research Program Report 19: Guidelines for the Location and Design of Bus Stops and future vehicle types
Recommendation for sidewalk widths based on demand, U of M standards and methodology outlined in the Highway Capacity Manual, Chapter 18: Pedestrians for peak passenger loadings
Evaluation of need for dedicated turn lanes at the unsignalized intersections abutting the North University Avenue transit center
Analysis of weekday bus arrivals during extended AM and PM peak hours to determine demand for curb space
Evaluation of possible left side bike lane on North University Avenue using bike lane practices in Ann Arbor research from other cities, and the AASHTO Guide for Development of Bicycle Facilities
Field Observation of pedestrian activity at and near the marked crosswalk after construction
Evaluation of signalization at marked crosswalk, including pedestrian hybrid beacons and traditional traffic signals with pedestrian and vehicle detection.
HRC prepared numerous memoranda for the analyses conducted and a letter summarizing the justification for bus bays on both sides of North University that are nearly 270 feet long.
Survey Services
Survey responsibilities include the re-establishment of the previous street network control, the property corner location control, the tie in to the Ann Arbor Geodetic Reference System (AAGRS) utilizing GPS RTK surveying technology for site coordinate system, and to perform the Design and Topographic survey to obtain a successful project. From the re-established control the radial design/topographic survey was performed by data collecting all topographic features within the influence area by "Total Station" data collection. All points were numerically noted and coded for their respective feature quality. Code attributes were also supplied to further enhance the informational value of the located feature. All utility structures were located and measurements were performed to obtain such information as size of pipe, direction of piping, depth and condition of the structure. All data was down loaded post processed and quality assured for use in the design mapping. The topographic design survey was used for the preparation of base plans.
ADA Design Considerations
One of the design challenges on this project involved designing an ADA compliant site. The existing project area had several locations between the road and nearby buildings where the slopes far exceeded ADA guidelines. The HRC project team mapped all of the ADA routes and paths across the plazas, sidewalks, road crossings, transit boarding areas and entrances to adjacent buildings. The team focused on the primary routes and ensured these were all ADA compliant. Retaining walls were installed to accommodate these routes while some secondary access routes were paved with slightly steeper slopes. This subtle, but critical engineering work, improved accessibility immensely for students, residents and visitors of all ages and with any mobility impairments.