Project Details
| | | |
| --- | --- | --- |
| Client | Location | Services |
| City of Sterling Heights | Sterling Heights, MI | |
The Dodge Park Road Rehabilitation Project included 1.7 miles of concrete pavement, concrete curb and gutter, concrete sidewalk and ADA compliant ramps at all intersections, HMA bike path, storm sewer, existing bridge rehabilitation and a new pedestrian bridge. The project also included traffic and pedestrian signal upgrades, landscaping improvements and permanent pavement markings and signing.
This project also included a complex four-stage maintenance of traffic staging plan to maintain access to City Hall, Police, Fire and several schools located within the project limits. This project included two existing bridges, one vehicular and one pedestrian (along the west side of the road), crossing over the Plumbrook Drain. The rehabilitation work on the vehicular bridge included hand chipping, scarifying of the bridge deck, concrete bridge deck overlay, substructure concrete with steel reinforcement and new isolation joint. The rehabilitation on the pedestrian bridge included deck stringer and diagonal bracing repairs, new timber decking and new isolation joint.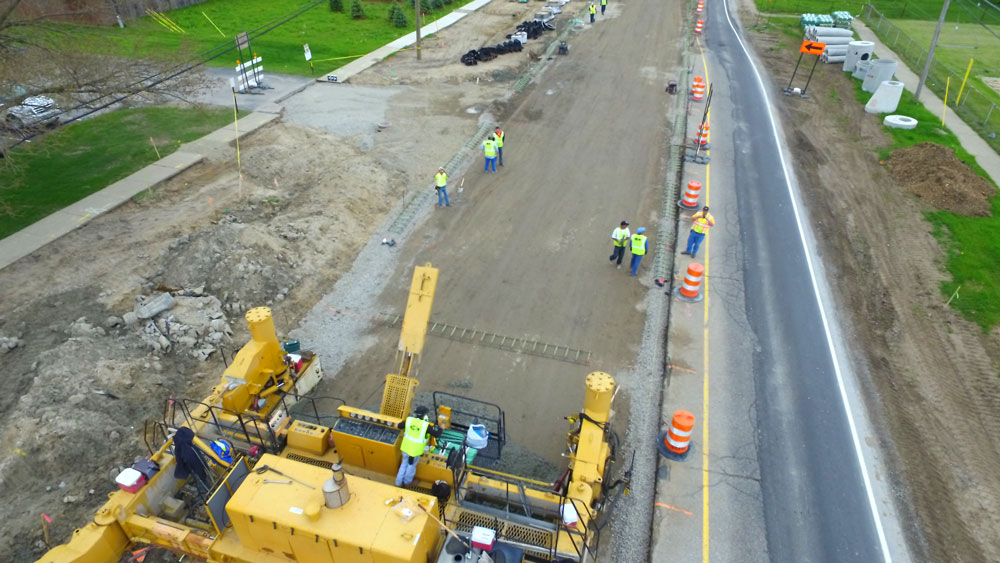 A new pedestrian bridge over the Plumbrook Drain, along the east side of the road, was also included. The design included pile supported foundation for each abutment, prefabricated concrete pedestrian bridge, concrete sidewalk approaches, pedestrian railings, isolation joint and joint waterproofing.
The project required extensive utility coordination and relocations including, over 40 utility poles being relocated with multiple joint users and new Consumers Energy gas mains being installed along the corridor. Numerous meetings and phone calls were held to facilitate the coordination efforts throughout the design process. New decorative lighting was also included.
HRC is employed by the City of Sterling Heights to provide all construction services on this project including construction administration, on-site inspection, construction layout, and material testing. HRC is also managing the contract paperwork in accordance with MDOT standards using Field Manager and Field Book. Construction began in April 2016 and is ongoing.
HRC's responsibilities included
Topographic survey
MDEQ Permit Application
Macomb County Office of Public Works Permit Application
Road Design
Storm Sewer Design
Utility Coordination
New Pedestrian Bridge Design
Vehicular and Pedestrian Bridge Rehabilitation Design
Construction Services